The Women's Pioneer Society of Australasia's Motto
"AB INITIO COLONIAE"
means, from the beginning of the settlement.
The society is an organisation of WOMEN DESCENDANTS of Early Colonial Pioneers,
Government Officials, Military Personnel, Free Settlers and Convicts.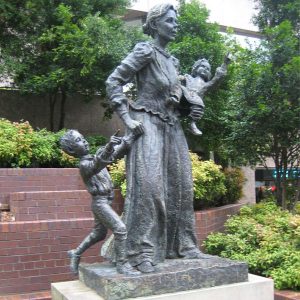 Statue Honouring the Pioneering Women of Australia
The Bicentennial Pioneer Woman Statue in the Jessie Street Gardens, Loftus Street, Circular Quay, Sydney.
Sculptor Dr Alex Sandor Kolozsy CDVA
The statue was commissioned by the Women's Pioneer Society in recognition of the courage and endurance of our
Women Pioneers and their vital role in the development of this wonderful country, Australia.
It was unveiled by our then patron, Lady Rowland, on Saturday 19th November 1988.